Sierra Pacific Warehouse Group goes SOLAR!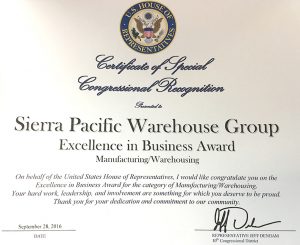 Excellent service does not always come with a high price.  Sierra Pacific is managed locally with low corporate overhead. Decisions are made quickly. Our employees are encouraged to find better solutions and offer continuous improvement with LEAN style thinking and metric analysis. Sierra Pacific is the cost effective and well-managed off-site logistics solution for you. Complete program management Sierra Pacific can manage your program from production to customer. We can handle raw materials for production, order building for distribution or repack and relabeling for special customers. We offer: consolidation, cross-dock blending, vendor managed inventory and much more. Sierra Pacific is the perfect partner for you and we deliver precision, accuracy, safety and professionalism.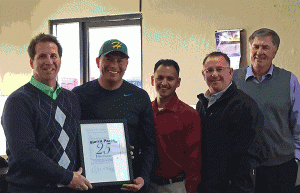 Our Team
Great employees are the key to success for Sierra Pacific.  Employee benefits, health care and 401K have been part of the package for 30 years.   A team with deep experience and dedication helps Sierra Pacific achieve growth goals and award-winning service levels.  For Sierra Pacific, the goal is to create a food safety program that protects suppliers from start to finish.   Sierra Pacific has chosen to participate in the food distribution portion of logistics.  This has required significant investment in frozen temperature warehouse facilities and deep study in the regulations of the Food Safety Modernization Act.
Quality and Safety
Safety and quality are the keys to continued success.  Sierra Pacific is active in government relations, helping craft the guidelines and regulations for the entire industry and management serves on the committees of the American Frozen Foods Institute, the Global Cold Chain Alliance and Stanislaus Logistics Program.  Sierra Pacific leaders work in Washington DC to make sure that our industry is represented and that Sierra Pacific is in front of new regulations.  This firm commitment to quality of the team, the facilities and the programs will be the key to long-term success.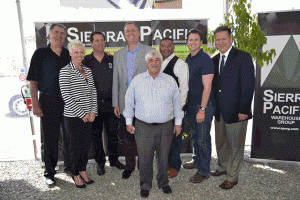 Community  and Industry Engagement
Encouraging community and industry involvement is a highlight of our company family owned company culture.  Engagement makes our team more responsive and builds our skill sets. The talent and the dedication of the Sierra Pacific team makes growth a sustainable initiative to be reinvested in the community.   Team members are involved in many local are non-profits and serve as mentors for local high-school based logistics training programs.
Sierra Pacific hosts an annual fundraiser that has delivered nearly $500,000 to local area charities.  Our company and our employees invest in the well-being of the cities where we live and operate.    Our team serves on many industry committees, both locally and nationally.
CEO Chris Murphy was recognized by the American Frozen Foods Institute as Outstanding Member of the Year.    Sierra Pacific was honored by the Modesto Chamber of Commerce as the 2017 Member of the Year and Chris Murphy was honored in 2001 by the Modesto Chamber for Distinguished Service.  Sierra Pacific was awarded for Excellence in Business by the Modesto Bee in 2016.
We are members of
• American Frozen Foods Industry  www.affi.org
• Global Cold Chain Alliance  www.gcca.org
• Warehouse Education and Research Council   www.werc.org
• International  Warehouse & Logistics Association www.iwla.org
• GSFI Certified by BRC – www.brcglobalstandards.com
We proudly support and participate in these organizations:
• Hope Haven West
• Howard Training Center
• Peer Recovery Gallery
• CSU Stanislaus Scholarships
• Sierra Vista Children and Family Center
• Center for Human Services
• Lakewood Elementary
• Modesto High School
• Stanislaus Country Logistics Training Center
• Modesto Area Music Association
• Gallo Center for the Arts
• Modesto Rotary Club
Client Log In:
https://public.spwg.com/