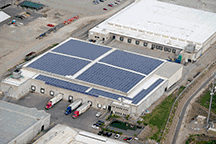 Food Grade Quality in all Temperatures
 Sierra Pacific is a family owned network of both cold and dry warehouses that are strategically located in the central valley of California. We bridge the critical 1-5 and Highway 99 corridor as well as targeting the center of the state intersection of I-5 and 580, with the Port of Oakland and Sacramento one hour away.
 Our specialty is service. We are dedicated to excellence!
SPWG has the facilities, experience and professional staff to handle your most important products across all temperatures. Our locations feature dedicated customer service.  We have aggressive food safety and sanitation programs that are designed to meet the tough standards of both frozen and ambient food handling. We value your products. Sierra Pacific operates both refrigerated and ambient temperatures overseen by a complete engineering staff. We can build temperature control areas to suit.
Our Locations
Our website: www.spwg.com
Our corporate office:  209-572-2882
Our corporate email:  contact@spwg.com
Modesto, California  95357
800,000 sq ft  – Rail Served:  UP & BNSF, M&ET
Temperatures:
Refrigerated 36-38 degrees F
High Chill  50-60 degrees F
Ambient
209-572-2882
209-572-0221 fax
modesto@spwg.com
VP and General Manager – Kenny Sauls,  kenny@spwg.com, 209-595-2369
Patterson, California  95363
450,000 sq ft   Rail Served:  UP, Cal Northern RR
Temperatures:
Frozen -10-0 degrees F
Refrigerated 36-38 degrees F
High Chill  50-60 degrees F
Ambient
Blast Freezing
209-241-5825
209-892-5920 fax
patterson@spwg.com
General Manager: Birdie Rodriguez, birdie@spwg.com, 209-534-1714
We are Rail Served
Take advantage of our excellent rail service with both of the Class A railroads.   Our Modesto facility features daily connections to both the BNSF and the Union Pacific via the M&ET.   Multiple switches are available daily and we have over 15 railcar positions.  We can handle both Ambient, Insulated and Refrigerated Service.   Our Patterson facility can deliver all temperature rail service, including Frozen to the Union Pacific via the California Northern.

National Network
Not only can we deliver California to you, we can deliver the USA, Canada and Mexico. Sierra Pacific is a proud member of the World Group, strategic partnerships in key areas that make your distribution seamless. Please contact us for nationwide service and we will make sure you get connected. http://theworldgroup.com/