You can trust your most valuable products with Sierra Pacific. Tax paid wine, beer and spirits storage is available. Sierra Pacific Modesto is a bonded Wine Cellar and can handle Federal tax processing and accounting. We are GSFI Certified by BRC and are FSMA ready and our Food Safety program protects your products.
Our basic services include:
• Food Service Distribution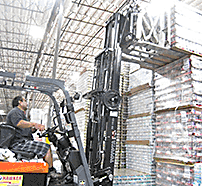 • Field temperature reduction
• Cross Docking
• Last mile delivery
• Import / Export
• Ingredients and raw materials storage
• Packaged fruits, vegetables and food grade products  
• Dairy powder and cheese
• Nuts and seeds
• Specialty temperature controlled product
• Case and each Pick
• Club store pallet building
Wine and Alcohol Services. 
Sierra Pacific offers first quality wine and spirits storage. As a bonded wine cellar, Sierra Pacific can assist larger wineries with federal tax deferment prior to entering the commerce stream.  Consumer Wine Club fulfillment is available and Sierra Pacific has Fed Ex 21 and over service. Sierra Pacific can ship 1 or 2 bottles to full truckloads in display cases to club stores and even insulated railcars. We can also manage your sampling, press and PR needs. We are a full service wine warehouse.
Multi-temperature storage is available for wine and alcohol products
• 50-60 degrees for fine wines
• 36 degree for refrigerated products
• Ambient for any variety of beverage
• Packaging and bottle storage available
Sierra Pacific has a #14 license that allows the storage of tax paid wine and spirits. This is a great convenience for large and small wineries and breweries as well as spirit manufacturers.
Full pallet, case pick and wine club fulfillment are all available at Sierra Pacific. Fed-ex overnight and signature required shipping is available, shipping to all of the approved states. Parcel ready wine packing is available. Local distributors are able to will call orders.
Sierra Pacific provides Bio-T secure, BRC Certified, and AIB Superior facilities to keep your products safe. Product is tracked by extremely reliable inventory systems and 24 hour video surveillance.
Trucking and Logistics Services
Sierra Pacific Express is available to solve your trucking needs for northern California and beyond. We can provide last mile trucking services to national carriers and can connect with your customers and interface with both local and national freight programs. Connections to BNSF and UP rail service are also available.
We are Rail Served
Take advantage of our excellent rail service with both of the Class A railroads.   Our Modesto facility features daily connections to both the BNSF and the Union Pacific via the M&ET.   Multiple switches are available daily and we have over 15 railcar positions.  We can handle both Ambient, Insulated and Refrigerated Service.   Our Patterson facility can deliver all temperature rail service, including Frozen to the Union Pacific via the California Northern.
Specialty Services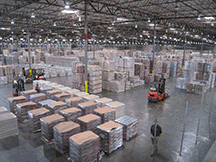 Sierra Pacific is much more than your standard warehouse.  We know that the logistics world has to get smaller and faster every day.  Your customers demand custom solutions and we can support those efforts and ideas from a classic bottle of wine, display shrink wrapping for the holidays, an overnight delivery of a frozen smoothie, or media press kit.  We can handle everything for you and your customers. Our trucking company, Sierra Pacific Express can even handle last mile re-delivery.
• Web and Order Fulfillment
• Repackaging and Packaging
• QC inspections
• Wine, Beer and Spirits
• Trucking and Logistics Services