Premium Packaging Services
Full service repack, bundling and re-labeling are also available at Sierra Pacific Premium Services, conveniently located on-site.   Whether you have the most delicate packs to hundreds of pallets of rework or bundling, Sierra Pacific is your service source.
Do you…
Need to re-label a full truckload of canned product?  
Have to shrink wrap a pair of whipped topping bottles together for retail display?
Make 6 pack display packs from bulk or cased inventory?
Want to put your products in tray packs?
Build displays for club stores?
Need someone to do quality inspections or sorting ?
Does your champagne need a special gift package wrapped up and shipped to your stores?

Sierra Pacific Premium Packaging can do it all. 
We have over 30 years of packaging experience that will allow your products to break away from all of the rest.  Our team will deliver the service and the precision for a small run or a run of thousands.  We can manage your entire process, generate labels, quality check and convert your product to exactly what your customer needs.  Our BRC Audited and Certified Packaging operation is ready to make your products customer ready.
We can do all of this for you: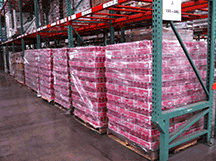 · Shrink Wrapping
· Poly Bundling
· Cartoning
· Fulfillment
· Assembly
· Striping & Relabeling
· UPC Bar Code Printing
· Date Coding
· QC Functions
· Sleeving
· Recoup / Repacking
· Labor intensive Projects
· Sampling
Let our team of packaging experts make your next project simple.
Contact us for a quote