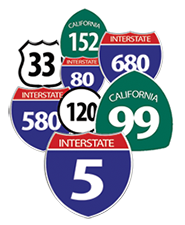 Trucking
Sierra Pacific Express can make your logistics projects easier.
Sierra Pacific is offers California intrastate trucking. We can now ensure that your product is handled all the way to its destination. We can handle your most complicated cross dock to the simplest bulk shipment. We are visting many of the major DCs on a regular basis and offer a great consolidation program.
Sierra Pacific Express is managed by Dave Cultrera, a 35 year logistics veteran with a specialty in complete freight programs, pooling and customer services.
Jeff Lawson, with 20 years of dispatch control ensures that Sierra Pacific Express meets your needs.
"Customer satisfaction is critical in transportation. There is nothing more frustrating that hunting down your delivery" explains Dave, "We take pride in our communication and service". Sierra Pacific Express specializes in drayage services to the Port of Oakland. This is a critical function to those of you who export to the Pacific Rim.
For deliveries around the state, we can set customized programs for single or scheduled service. Our rates are competitive and can be conveniently billed on your monthly warehouse invoice with all of your shipping charges if you require storage services.
Looking for Frozen LTL trucking?
Sierra Pacific is teamed up with Kool Pak Trucking for last mile, west coast and nation-wide frozen LRL.
Our warehouse and trucking teams are the perfect solution for your transportation needs.
Contact us for your Central California transportation needs at trucking@spwg.com or
1-800-949-1115 or in local areas at 209-593-3742.
Sierra Pacific Warehouse Group is your one stop in central California